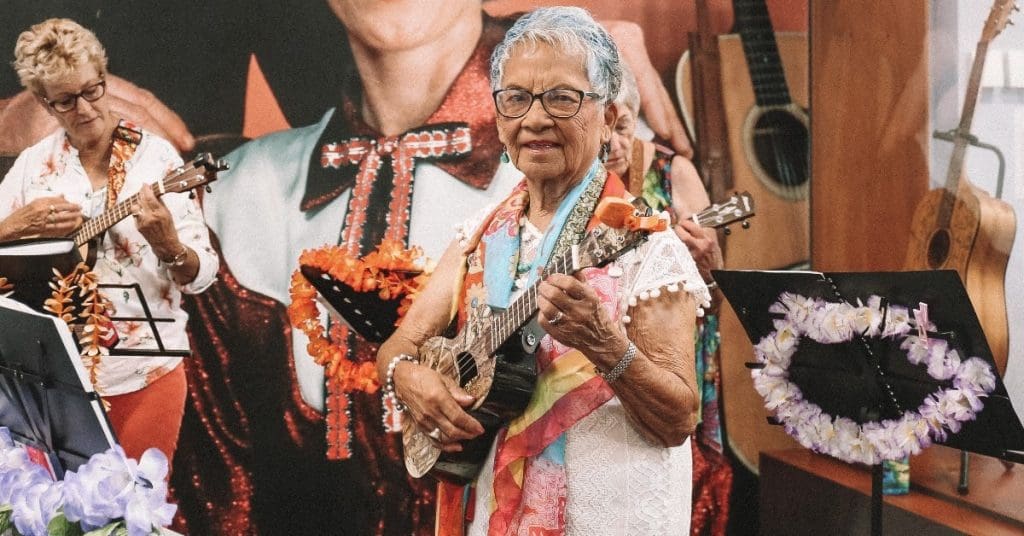 We are thrilled to announce the successful recipients of a share in $17,368 funding for Creative Ageing projects through our Country Arts Support Program. Evidence demonstrates the powerful impact that the arts can have on the health and wellbeing of older people and these projects will enrich our communities by providing participatory arts activities that benefit older people and bring together generations.
---
Congratulations to the following individuals/organisations:
Port Macquarie Historical Society Inc. "Creative Curiosity"
Creative Curiosity will fund three creative workshops for Port Macquarie U3A Textile and Fibre artists during the later half of 2022 led by mixed-media artist Vivianne Hazenveld. The workshops will develop artist skills and inform creative works for an exhibition to be staged at Port Macquarie Museum in 2023.
Slippry Sirkus, "Warp & Weft"
Warp and Weft – storytelling project provides opportunity and access to skills development workshops for Seniors/Elders utilising spoken word, memorabilia visual, audio and digital art forms and processes to produce and share their stories and experiences that are the threads that make up the fabric of community.
Deborah Page, "Creativity Matters"
The project will provide weekly workshops for Residents, featuring a different art/craft activity each week for three months at Bellevue Gardens Retirement Village, Port Macquarie.
Sandra Kwa, "Gathang Anthem Singing and Language Workshop"
Biripi and Worimi leaders, together with professional musicians, will present a one-day workshop to choristers, Elders and other, especially Indigenous, people. We will to learn to sing the National Anthem in Gathang Language, plus other supporting songs. To be held in Taree.
Camp Creative Inc, "Camp Creative 2023"
Camp Creative is a vibrant summer school, retreat and creative community that springs up every January in Bellingen, NSW. It's a week filled with creative courses – art, music, dance, crafts, singing, photography, writing, drama, lifestyle, and wellness. The grant will allow talented key senior tutors to be engaged in the workshops and share their artistic skills with the broader community.
Lisa Hort, "Story Sharing Moments – Together We Create Project"
The project is designed for people living with dementia and their care partners. The project will be delivered once a month, over 6 months at Manning Art Gallery. Participates will be invited to engage with selected artworks from the current exhibition and their share stories inspire from the artworks.
Antonio 'Giri' Mazzella, "Who Am I – Where Do I Come From?"
A series of guided interactive creative playshops for senior citizens (inclusive of alzheimers impacted) and carers to explore memory, origins and family stories through song, music and writing exercises staged in a natural environment (eg Coffs Harbour Botanical Gardens or Foreshore).
Kim Hodges, "Memoir Writing Workshops- Across the Ages"
The 2 x 6 hour workshops will be held at the Coffs Harbour Women's Health Centre over 2 Saturdays for participants over 18 years of age and much older. The aim is for memories to be shared between the generations in the 2 workshops and documented in the written form.
Sawtell Catholic Care/The Link, "Young at Art"
'Young at Art' is an intergenerational art project collaboration between the most senior (residential aged care residents) and junior (preschoolers) members of our community over a 6 week space from August to September 2022 to create work for a exhibition during December 2022 January 2023.
---
Country Arts Support Program (CASP) is an annual small grants program and is guided by Create NSW Arts and Cultural Funding Program and delivered in partnership with the 14 Regional Arts Development Organisations.