This listing was submitted to Arts Mid North Coast as part of our free content service.  if you would like to submit arts news, events and business listings to this site please click here to learn more.
Arts Mid North Coast have made every effort to check the accuracy and integrity of all content prior to publication.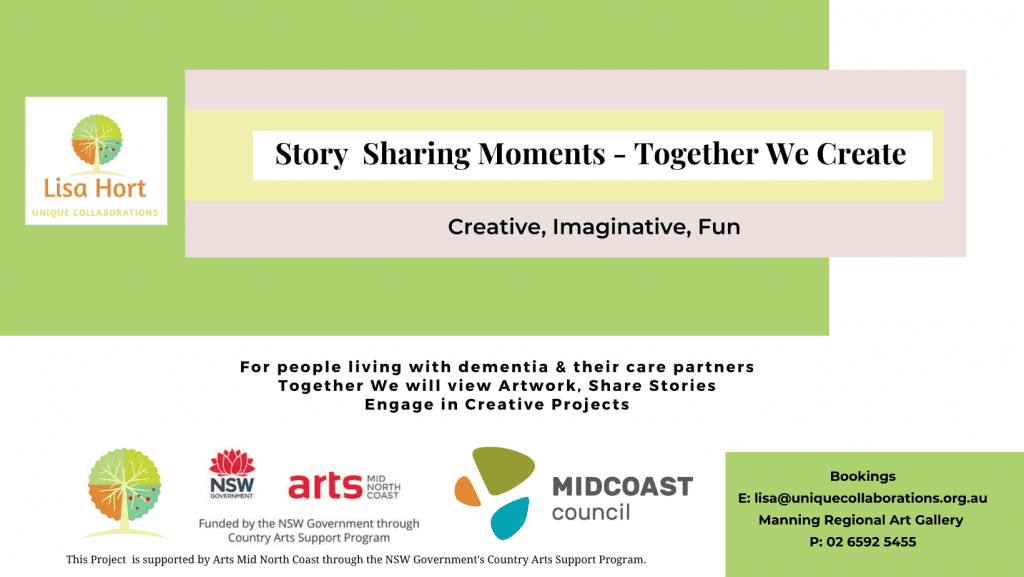 Story Sharing Moments – Together We Create
Facilitated by Lisa Hort Creative Ageing Specialist each session is especially designed for people living with dementia and their care partners. Together we will view artworks, share stories, stimulate imagination and engage in creative artmaking.
Running on six Wednesdays from 10 – 11.30am.
Dates: 31 Aug 22, 28 Sep 22, 26 Oct 22, 30 Nov 22, 14 Dec 22, 25 Jan 23
FREE. Limited spaces, bookings essential.
Book here.
This project is funded by the NSW Government through Arts Mid North Coast's Country Arts Support Program delivered in collaboration with Manning Regional Art Gallery.