The Wednesday Morning Group is a volunteer collective of spritely seniors, who love to dress up and sing and dance to raise people's spirits. They primarily perform at nursing homes across the Macleay Valley, with two shows at this years' Macleay Seniors Festival.
We had a chat with president, Gay Pettit to find out a bit more about the group...

Tell us about the Wednesday Morning Group, who are they, how did they start?
The Wednesday Morning Group was formed in 1975, after Cyclone Tracy destroyed Darwin and people everywhere raised funds to help rebuild the city (a bit like what is happening at present). SWR Country Club had a huge fund raising event and a group of ladies from the Bowling Club formed a group of "entertainers". The group was so entertaining that they were asked to become an inner club, and so began the Wednesday Morning Group, so named because they practised every Wednesday , and still do today.
Where does the group perform?
Nowadays we travel to all the Nursing homes in the Macleay, performing for the residents, hopefully brightening their day. I know we get much pleasure from doing this!
Every Christmas we do a 2 hour show for invited guests, also providing afternoon tea, (once it was a full Christmas lunch, but the cost has become too prohibitive now as we invite 150-200 guests).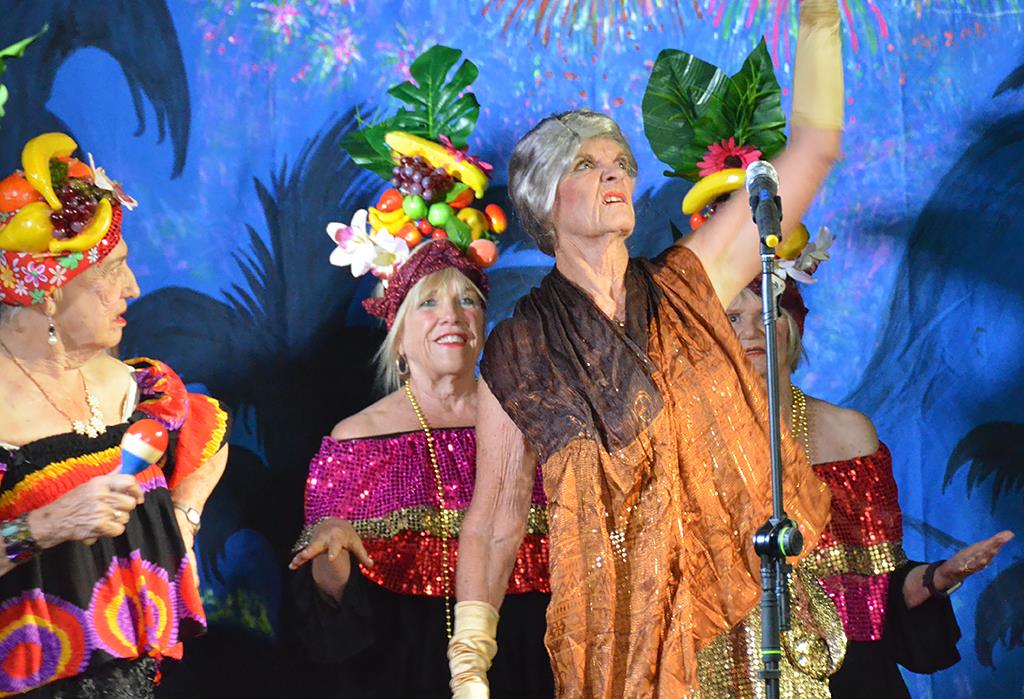 You've gathered some really good community support in the Macleay...
We receive a grant from the Country Club to help defray costs, the SWR Lions club donate the cakes for lucky door prizes and we have many generous raffle donations.
This show is then performed in May (or June) as a fund raiser. The entry fees and raffle then help to cover the cost of the Christmas concert. We receive a very generous donation from the Uniting Church Op-Shop, as one of their community projects. (Some of our group work there as volunteers).  Apart from these donations, we are really self-funded.
Who comes up with the skits and performances? 
The items and ideas are a group venture, with someone coming up with a suggestion, then all of us having some input. Some skits are from jokes, or even from the computer.
We just love all your amazing outfits! Who makes your costumes and props? 
In the past we have had a couple of clever seamstresses, and now with easy and affordable costumes available on-line, it is much easier to access costumes. The props are made by a couple of our group, and the husband of one of the girls.
Where can we find you? 
We can be found at the  SWR Country Club, between 9.30 and 11.30. If any organisation is interested in having us entertain them, please get in touch with either myself on 65 665 258 or our secretary Gail on 65 665 680.
The Wednesday Morning Group are performing two shows as part of the Macleay Seniors Festival. Catch them this Sunday 16 February at the Oddfellowes Hall and at the South West Roxy Cinema Hall on Friday 21 February