Arts Mid North Coast (AMNC) is the peak regional arts and cultural development organisation for the Mid North Coast region of New South Wales. Our region includes the five local government areas of Port Macquarie-Hastings, Kempsey, Nambucca Valley, Bellingen and Coffs Harbour and embraces the area associated with the Biripi, Dunghutti/Thunghutti and Gumbaynggirr Nations.
First established in 1998 as the Holiday Coast Arts Council, it changed its name in 2000 to Arts Mid North Coast and became part of a NSW network of then named Regional Arts Boards. Today there are fifteen Regional Arts Development Organisations (RADOs) in NSW, each providing strategic direction for sustainable arts and cultural development in their region. Arts Mid North Coast operates as a Not For Profit incorporated society with 12 Board members; one appointed by each of our partner Councils and up to six community representatives.
With nearly 325,000 residents the Mid North Coast is the most populated region in the RADO Network.
We service a population greater than two capital cities (Hobart and Darwin) and more than double all but four of the other RADOs.
It is also an area of high population growth with a projected population in 2036 of 384,841. Covering 22,000 square kilometres the Mid North Coast is not in any way the largest RADO in area; however, it is still larger than countries such as Slovenia and Israel.
These factors create a unique dynamic and many challenges.
In 2023, Mid Coast Council withdrew membership with Arts Mid North Coast. Our region now encompasses the Port Macquarie-Hastings, Kempsey, Nambucca, Bellingen and City of Coffs Harbour LGAs.
Click map locations below to view details: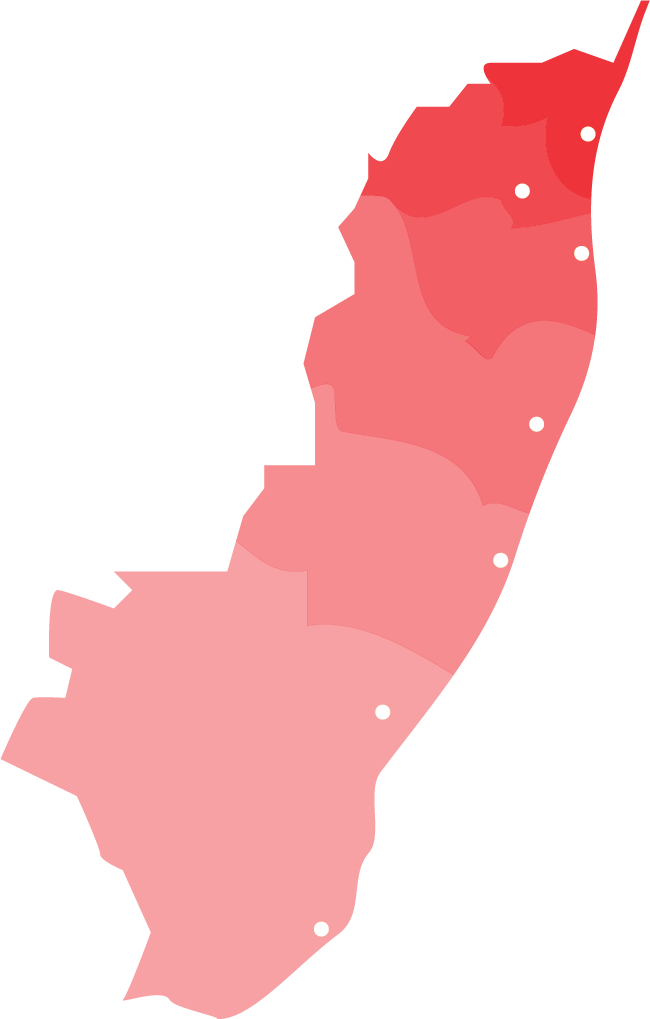 Our Strategic Plan 2022-2024 established the following Strategic Directions:
Positioning Statement
We put the arts and artists front and centre in all we do
Vision
The Mid North Coast, a vibrant and diverse region embracing the creation, understanding and appreciation of the arts in fostering economic, community, cultural and environmental opportunities and benefits.
Purpose
Arts Mid North Coast, the region's peak arts organisation, supports and collaborates with government, communities, organisations, business and individuals to build capacity and create opportunities for the arts and creative industries.
Strategic Intent
Helping us create new capabilities to exploit future opportunities by:
Taking a more active role in collaborating with others to be a leading voice in the region on the importance of the arts
Broadening the scope of our partnerships and collaboration to include all those that will enhance our knowledge, expertise and collective impact as well as strengthening our connections with existing partners
Building on our strengths to further enhance the capacity of those involved in the arts and their experiences of us and our services
Taking practical and systematic steps to improve our profile so that all interested in the arts understand who we are and what we do.
To generate increased opportunities for access, participation, training and education in the arts and creative industries (Capacity)
To celebrate through increased visibility and awareness the region's creative and cultural activity and opportunities (Celebrate)
To develop and foster strategic partnerships, projects and networks that benefit the region's arts and cultural sector (Collaboration)
To encourage and support the arts, creative industries and cultural development in all strategic processes to provide leadership and ensure positive outcomes for local, community and regional initiatives (Advocate)
To be an agile, dynamic, effective, accountable and sustainable organisation utilising relevant best practice technology and skills to promote and achieve excellence (Governance)
Visual Arts
There are two major regional galleries in the region – Coffs Harbour Regional Gallery and Glasshouse Regional Gallery (Port Macquarie). A new and larger Coffs Regional Gallery is being developed in association with a new library and museum within the complex as part of a major plan to vitalise the City Centre of Coffs Harbour.
In total there are nearly fifty galleries in the region. Significant community run galleries with changing exhibitions can be found in Port Macquarie, Gladstone, Macksville, Urunga, Bellingen and Sawtell while many others are retail based. There are also several Aboriginal galleries and centres across the region including the Dunghutti–Ngaku Aboriginal Arts Gallery (Kempsey) and the Wadjar Regional Indigenous Gallery at Corindi.
Public Art is found throughout the region and previously a large scale outdoor sculpture competition and exhibition, Sculpture in the Gaol, was held each year at Trial Bay Gaol (South West Rocks). Street Art is also increasing both in extent and sophistication and style
Theatre and Performing Arts
There is strong interest in theatre and performing arts, with a number of touring companies and performers staging regular performances across the region. Glasshouse Theatre in Port Macquarie and Jetty Theatre in Coffs Harbour provide regional venues for touring performances across theatre, dance and music. Progress is also well underway for planning an 800 seat theatre in Coffs Harbour and major plans are being pursued for a revamp of the Jetty Theatre, upgrading many of its facilities and adding a major space for rehearsals and other community uses.
There are smaller but very active community based theatre groups in Port Macquarie, Coffs Harbour, Dorrigo and Stuarts Point. All local companies rely heavily on volunteers and very few of these productions are sufficiently resourced to tour. Got Ya Back Productions in Port Macquarie is the exception touring both within Regional NSW and Sydney. Drama as a subject is confined primarily to the private school sector while dance occurs in many local dance schools outside of the school system.
Music
Mid North Coast communities have a strong history of engagement with music across a very wide spectrum of genres. The region's many festivals focus upon world music, jazz, contemporary, acoustic, folk and bluegrass genres and attract broad interest both within and outside the region. These festivals typically accommodate a mix of local and touring performers and provide opportunities for emerging local talent and community participation.
The small township of Kendall hosts the Kendall National Violin Competition, Australia's preeminent contest for young violinists for over 20 years. There is a very active and strong regional conservatorium at Coffs Harbour providing formal music training and strong music education opportunities within many primary and secondary schools. Music is a priority artform for Arts Mid North Coast assisted by the appointment of a Music NSW, Regional Music Officer and the development of the Music in the Regions organisation advising the Minister for the Arts. Arts Mid North Coast supported youth music mentorship programs in the region during 2022 and will work with APRA AMCOS in 2023 to deliver further programs.
Aboriginal Arts & Culture
Based on 2016 Census figures 5.8 percent of the Mid North Coast population were of Aboriginal or Torres Strait Islander descent, well above the State figure of 2.9 percent. This is not uniform across the region with more significant numbers in Kempsey Shire (11.6 percent) and Nambucca (7.3 percent). Our region has an independent peak body for Aboriginal culture, the Saltwater Freshwater Arts Alliance (SWFW). It is a unique model in the RADO Network for the delivery of Aboriginal Arts and Culture in a more impactful way in line with principles of self-determination. Saltwater Freshwater Arts provides a year-round program of activities grounded in arts and skills development across a range of different art forms. It also manages the annual Saltwater Freshwater Festival.
Film and Digital Arts
Engagement with film and the digital arts has increased dramatically in the last five years. This has been led by Screenwave in Coffs Harbour and its very successful annual International Film Festival held in Coffs Harbour and Bellingen and its Nextwave workshops and film festival which focuses on the development of young film makers through high schools in the region. Screenwave has also developed a Film Industry Group. Arts Mid North Coast has strongly supported all three projects. Touring film festivals to the region are also well supported by the local population as is support for events at a number of the historic cinemas still operating in the region.
Literature
The region has several literary festivals with the most established being the Bellingen Readers and Writers Festival. In recent years the Grassroots Writers Festival which began in Dorrigo has travelled to Nambucca and Port Macquarie. These events all recognise the large number of writers groups in the region. This interest is also reflected in the active role local libraries now play in staging events throughout the year and for younger people in school holiday periods. While the traditional focus of many of the events is books they now also involve a broader range of art forms.
Museums
There are more than twenty museums in the region. Most are local museums but there are several specialist museums including the Mid Coast Maritime in Museum in Port Macquarie, the Slim Dusty Museum in Kempsey, the National Cartoon Gallery in Coffs Harbour and the Sikh Heritage Museum of Australia in Woolgoolga. All of the local museums with the exception of the Coffs Regional Museum are managed and staffed by volunteer members of local historical societies. The multi award winning Port Macquarie Museum leads the Mid Coast Chapter of Museums Australia which provides many training and sharing opportunities across the region.
Festivals & Events
The Mid North Coast has a strong record of successful arts related events with some such as Camp Creative dating back 20 years. Today they range across all genres of music, art, sculpture, Aboriginal culture, street art, literature and film. What is common to all is that they are managed by passionate local volunteers and herein lays a challenge for there is a limit to that passion over time without proper succession planning. The challenges facing these events and volunteers include a limited sponsorship base in the region, increased management requirements and protocols and increased competition from sports events which seem to have a higher priority with Councils. Nevertheless the potential remains for them to be a major showcase of the regions talent plus bring outside talent to the region. This will require closer relationships with the tourism industry and local business.
Looking Forward 2021-2024
Our Looking Forward is a two part report.
This report is divided into two parts:
Part One - 2021 A Year Like No Other
This summary of challenges, projects and outcomes has established the directions and role of the organisation for the immediate years ahead.
Part Two - Strategic Plan
Outlines our direction and goals for the period through to 2024 and is a summary of our Strategic Plan for that period.
Acknowledgement of Country
Arts Mid North Coast acknowledge the Aboriginal and Torres Strait Islander peoples as Australia's First People and Traditional Custodians. Our work is based across the traditional lands of the Gumbaynggirr, Dungutti/Thunghutti, Biripi and Worimi Aboriginal communities across the Mid North Coast of NSW.