This listing was submitted to Arts Mid North Coast as part of our free content service.  if you would like to submit arts news, events and business listings to this site please click here to learn more.
Arts Mid North Coast have made every effort to check the accuracy and integrity of all content prior to publication.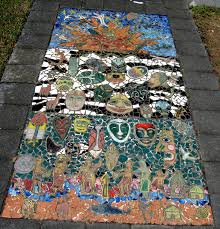 This series of five mosaiced pavement works represent a number of different cultures as seen by a number of school students who worked on this project for the Coffs Harbour Botanical Gardens. Those are India, Africa, China, Central and North America.
Image credit: Coffs Harbour Botanical Gardens