This listing was submitted to Arts Mid North Coast as part of our free content service.  if you would like to submit arts news, events and business listings to this site please click here to learn more.
Arts Mid North Coast have made every effort to check the accuracy and integrity of all content prior to publication.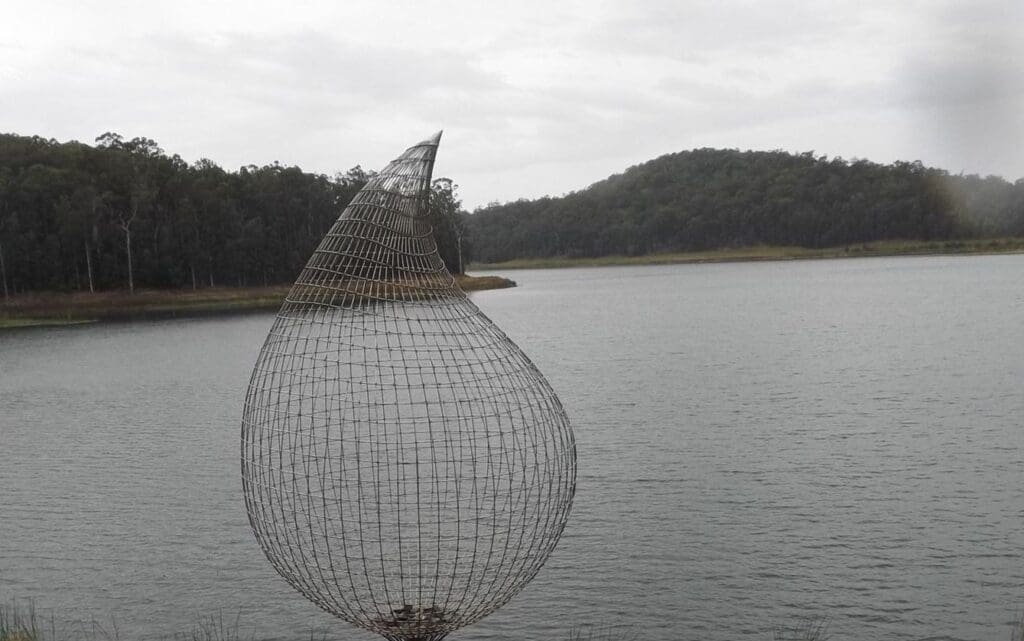 The Hastings Council Cowarra Dam Public Art Project major public art project integrates a series of colourful art installations which reflect the significance of the site.
The project recognises local Aboriginal cultural heritage, the environment and the importance of water to the community, and reflects the involvement of the Bunyah Local Aboriginal Land Council in the approval and construction of the Cowarra Dam.
Lead Indigenous artists: Frank Edward Dargin, Lois Davis, Isabell Moran and Maria Ritchie.
Artist Mentors: Guy Crosley, Stephen Killick and Jacky Beckhurst
Trainee artists: Gary Chapman, Amos Donovan, Kylie Dyson, Shane Shields, Des Chapman, Olga Davis, Elaine Morris and Brett Ritchie.
The stainless steel sculpture, titled The Drip, is by Wauchope artist, Peter Allison is designed to draw attention to the essence of what the dam is all about, water. The sculpture is located over the inlet chute, channelling water into the dam from the pumping station at Koree Island.
Images credit: Grahame Cookie