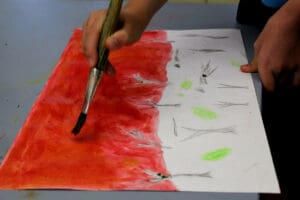 Over 150 primary school students in the bushfire-affected Orara Valley took part in a Creative Recovery Project spearheaded by Coffs Harbour City Council's Regional Gallery and Museum as part of ongoing bushfire recovery initiatives.
"Helping the children of the Orara Valley recover from the bushfires is one of the most important aspects of our bushfire recovery work," said Coffs Harbour Mayor Councillor Denise Knight.

"There is more than enough evidence available that shows that children caught up in traumatic events can carry the scars throughout their lives, so it's vital they are given the tools to help them deal with and understand their emotions and responses."
Coramba Public, Ulong Primary and Nana Glen Public Schools partnered with the Regional Gallery to provide outreach programs and workshops for students to work with Gumbaynggirr Elder Uncle Mark Flanders and Art Therapist Emma Gentle on classroom-based creative activities to help them work through their experience of the November bushfires.
"Schools were closed and communities in the Orara Valley had to deal with the approaching fire threat as well as thick smoke, constant sirens, racing fire trucks and extreme weather conditions," said Ashleigh Frost, Acting Gallery and Museum Curator.

"All the children were exposed to this terrifying event with many having to leave their homes suddenly in the face of a moving fire front. Once they were able to return, the reopened schools become a vital way for children and families to connect with each other and maintain familiar routines – particularly for those who had to stay in temporary accommodation, or lost their homes.

"So we were very keen to work with the children in their school communities to help them reflect, process and recover."
At the end of the project, and exhibition was held at the Coffs Harbour Regional Gallery Culture Hub Annexe showcasing their children's work. The Regional Museum also collected and documented a selection of the works through its 'Coffs Collections' digitisation project to be shared on its public online database.
"In this way, the children's artworks will be preserved for future generations and will be available as a teaching resource within the classroom," added Ms Frost.
See this video of the exhibition outcomes