Story Sharing Moments is designed for people living with dementia and their care partners. The project is being delivered once a month with local museums and galleries including the Manning Regional Art Gallery, where facilitator Lisa Hort will stimulate discussion and storytelling inspired by the Gallery's artworks and museum objects. Local respite services such as…
We provide access to resources including creative ageing research and publications for those interested in learning more about the field of creative ageing.
Creative Ageing for All is our strategic pathway to provide access and participation to creative ageing activities in the Mid North Coast Region.
Creative Ageing Directory
Our Creative Ageing Directory provides a list of organisations and groups from all across the Mid North Coast who provide creative activities and events for older people.
There's something for everyone, so get out there and get creative!
Details provided in this directory were accurate at time of publication, please contact organisations directly for more information.
Pick your interest and find whats on locally:
Use drop down menu above to move up and down the page.
Use drop down menu above to move up and down the page.
Join a Community Gallery or Group
Many of the Community based art groups and galleries on the Mid North Coast offer tuition as well as the opportunity to exhibit.
They are also a good place to volunteer if you have an interest in art.
Use drop down menu above to move up and down the page.
Family History
Joining a local family history group will give you lots of benefits for researching your family history.
You also get to meet others who have a similar interest, may be researching similar areas and families, and those who have lots of knowledge that they are willing to share.
Use drop down menu above to move up and down the page.
Local Film Societies or Clubs
Interested in film then why not join your local Film Society or Club
Visit our Events Calendar anytime to find out the latest film events in the region from Film Festivals to one off screenings.
Use drop down menu above to move up and down the page.
Learn to play the Ukulele
All over the world the ukulele has become the favourite challenge for those wanting to connect through music.
A number of opportunities and groups can be found on the Mid North Coast:
Borrow a Ukulele
Port Macquarie Hastings residents can go the Port Macquarie Library and chat to one of the friendly Librarians about how to borrow a free uke kit which includes ukulele, tuner and case.
So far over 120 seniors have participated in this project and a group of them have formed a Ukulele Ensemble
Use drop down menu above to move up and down the page.
Writing Groups
The written word can be a powerful tool of art and creativity. There are a number of writing groups throughout the region where you can share your love of writing or seek to improve your skills. In addition an important resource is the extensive network of libraries throughout the region. Libraries are much more than a place to read; they also stage a range of artistic events from book readings and launches, to workshops and presentations.
Our Libraries
Please check for varied opening hours especially the smaller branch libraries.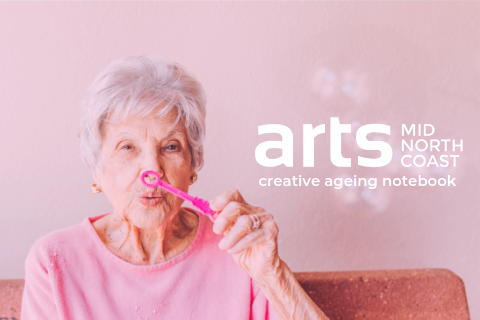 We gather all the latest research, news and opportunities in the Creative Ageing world. Keep up to date and subscribe below to our Creative Ageing Notebook. Click here to catch up on past issues.